Chia seeds originally come from Mexico
and in a Mayan language, Chia means Strength.
Chia Seeds are rich in Omega3&6, Iron, Magnesium,
Calcium, Anti-Oxidants, Protein, Vitamins and etc..
Just like Hemp Seeds (Onomi) were used to give strength
to people in Japan (perhaps also in some other parts of Asia),
Chia Seeds have been one of the most important source for
balanced nutrition for Mexico and neighboring countries.
There is a story of Buddha having one Hemp Seed a day
when he was in his ascetic period for three years.
Likewise there is a legacy of Ancient Aztec warriors
eating Chia Seeds to keep them going.
Well, some plants are made just right for us.
Hemp Seeds are available in Japan but not in Australia (><)
but luckily we have access to Australian grown Chia Seeds.
I am having them for my breakfast and dinner,
so that I can turn into a super human with the physical strength
of an Aztec warrior and and the spiritual strength of Buddha :-)
Chia seeds, Corn Cereal and Raisins mix in Rice Milk.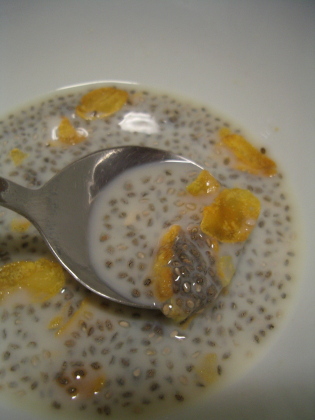 Polenta and Asparagus with Chia Seeds and Soy Beans.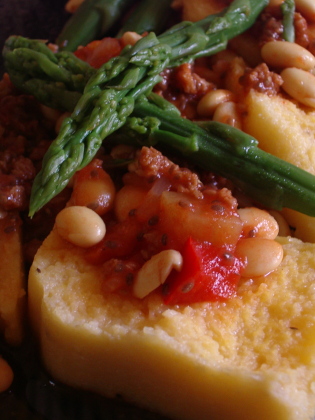 ▲ by millet_sisters | 2009-12-01 16:20 | Nutritional Values